KPA Explicates Viral Advert Listing 6,000 Job Openings
The Kenya Ports Authority (KPA) has flagged a viral advert announcing 5,815 job vacancies in various departments.
In a statement issued on Wednesday, October 12, KPA clarified that the job opportunities declared in the post were non-existent.
The Authority also warned Kenyans against falling into the traps of scammers seeking to steal their hard-earned cash.
"Scam alert. Kindly beware of the fraudulent advert," read part of the warning by KPA.
The notice purported to announce mass recruitment to aid in bridging the gap within Kenyan Ports staffing.
Some of the positions which were advertised involved internal auditors (121), maritime officers (79), procurement consultants (312), Human Resource Managers (136), logistics officers (222), cashiers (310), drivers (312), cleaners (306).
Other slots included accountants (411), nurses (151), branding officers (416), plumbers (216), mechanics (98), crane operators  (217), office assistants (139), signal officers (200), public health officers (161), administrative assistants (81) and IT technicians (92).
The deadline for the purported advert was set on Monday, October 24, with candidates being advised to provide supporting documents for approval.
How to Spot Fake Adverts
Candidates are always advised to countercheck whether a post consists of spelling or grammatical errors as it is uncanny for most businesses to portray themselves in bad light when advertising for vacancies.
Further, another tip is to do a quick search to ensure a company has an online presence as well as carefully go through the details of the job advertisement. Be wary of quick rich scams that sound too good to be true.
Another red flag to watch out for is the recruiter's email. Avoid addresses that have a personal domain such as Yahoo, Gmail, or Hotmail.
In addition, look out for job adverts that request payment before interviews. Recruiting agencies always post that their advertisements are free of charge and hence no one should pay any amount for the vacant position.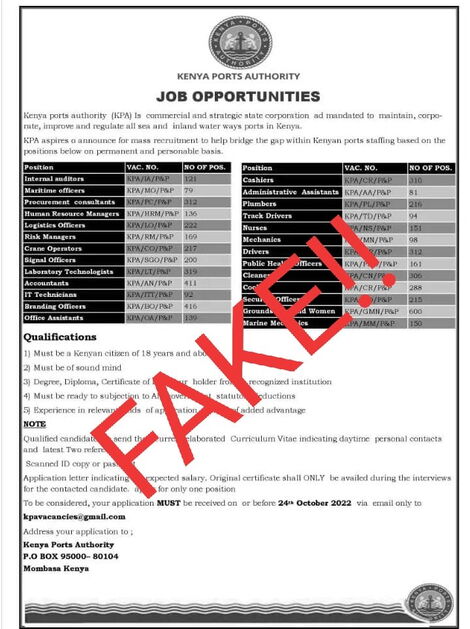 Fake Job advert flagged by the Kenya Ports Authority on Wednesday, October 12, 2022.